About Bar Association , Jind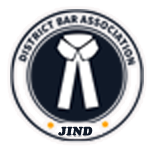 Judical Courts Started Functioning In new judicial complex 1st July 1983 and bar association was also established in the year 1983, under the Presidentship of Sh. Daya Krishan , Advocate and the organization level of Bar Association is given below:- President,Vice- President,Genera, Secretary,Joint Secretary,Library In-chargeDistrict Bar Association, Jind has a long and cherished history of contributory to Social Justice through its prominent members.
Prior to the independence of our country, Jind was ruled by Maharaja of Jind. He was the head of Judicial System and appointed Nizam (Magistrate). The said Nizam used to visit the place of occurrence and had to decide the case at the spot.
Courts at Jind had been shifted in the present Judicial Complex on 01.07.1983 and prior to that same were functioning in the historical building of court which was constructed by Maharaja Gajpat Singh in the year 1775. The Britishers had acquired /occupied the said building from the Maharaja but onwards from the year 1803, Rajas gave help to the Britishers with man, money and material as and when required. It may be added here that old buildings at Narwana and Safidon where courts were functioning earlier have no historical importance.
After independence, in the beginning, one court of the Sub Judge was set up at Jind in the year 1952 under Sangrur Sessions Division. During the reorganization of Punjab state in the year 1966, Sangrur District was bifurcated and Jind and Narwana Tehsils were allocated to Haryana and were constituted into Jind District. The Jind Tehsil was bifurcated into two Tehsils of Jind and Safidon in the year 1967. After the organization of Haryana state, Jind Sessions Division has two Sub Divisions namely Narwana and Safidon. Court of Senior Sub Judge-cum Chief Judicial Magistrate, Jind was established on 31.10.1966. A separate court of Chief Judicial Magistrate, Jind was set up on 18.06.1974. One court of Additional District & Sessions Judge, Jind was set up on 18.10.1970.
MESSAGE